One Helping Hand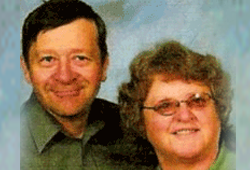 Opening a charitable gift annuity after her house sold, Joyce Lehman "wanted to put her money somewhere it could be helpful" while also benefiting from it. "When you give, God gives back to you in numerous ways - maybe not always in money - but He blesses you in other ways," Lehman explains.
The gift annuity Joyce shares with her husband, Dale, aids Paxton Street Ministries and several other compassionate ministries. Lehman rejoices, "knowing it can be used to benefit people who need help, like Paxton Street Ministries, where residents also get a spiritual atmosphere while they are there."
Located in Harrisburg, Pa., Paxton Ministries provides affordable housing, food, and other support to underprivileged adults, many of whom have mental health concerns. A large portion of Paxton Ministries' funding comes from individual donations such as the Lehman's.
Crediting her parents for instilling a sense of generosity within her, Lehman encourages others to "consider [a gift annuity] because it's a way that money can be used to help spread the gospel, or help other members of the church who might not be as well off as you."