A Teacher's Gift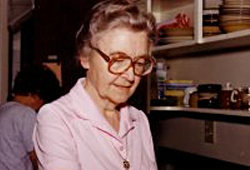 When Ethel Climenhaga passed away, she left behind an estate larger than anyone, even those closest to her, could have expected. As a recipient of a portion of Ethel's estate, the BICF has seen Ethel's legacy continued through planned giving. A Christian educator for the majority of her life, Ethel often sought to lead by example.
After beginning her lifelong pursuit of learning within her home community of Kindersley, Saskatchewan County, Canada, Ethel left home at sixteen to continue her education. She studied at both Messiah Bible College and Goshen College and went on to teach at Hesston College, Kansas.
With three years experience, Ethel accepted a teaching position in business education at Upland College in Upland, CA and went on to receive her master's degree in business education. She loved her career and remained devoted to her students for the rest of her life.
"Ethel always worked for Christian schools," remembers Dr. John Martin, her cousin-in-law. "She never had a high paying job - but she saved." Ethel taught courses in bookkeeping, shorthand and typing.
During her years teaching with Western Christian Academy, after Upland Christian Academy became an exclusively post-secondary school, Ethel was commended for her attendance record. Harold Sider, a relative and principal of the Academy, remembers, "There were a number of times when she had laryngitis and could hardly speak, but she would say, 'I can get along. I can write the directions on the board.'"
In fact, Ethel would frequently write her lessons on the board and when students came in they would begin immediately. "There was not a lot of wasted time in Ethel's classroom. She was very well organized as a teacher-very innovative-and had very good classroom discipline," Harold remembers.
Outside of the classroom Ethel was always using her own experience to guide others. "Ethel was always full of life and liked to help people," John recalls. Faithfully attending Brethren in Christ congregations throughout her life, Ethel taught Sunday school while also serving as the Dean of Women for Upland College, aiding the "girls in get[ting] used to college...used to life."
While teaching a class and discussing the virtuous woman in Proverbs 31, Wilmer Heisey, Ethel's brother-in-law, chose to tell the story of Ethel's life "as an illustration of a virtuous woman who didn't marry, didn't have children, but lived a life rich and full, blessed with friends, family and the church." He recalls how impressed the group seemed. One individual remarked, "And she is still teaching us."
One way is through the responsibility with which Ethel handled her finances and her estate, "The way Ethel spread her estate across the church and her concerns, we think is outstanding," Wilmer states, "and just illustrates what her life was like. She was very organized, very wholehearted; just very involved in the life of others."